As a startup, PINPOOLS is conquering the chemical industry by continuously pitching the market professionals and potential customers. We often face the misunderstanding of the e-commerce marketplace's definition, since it is fairly new digital term. Even though it has not been around for too long yet, it is growing and expanding, especially in B2B market. The definition of marketplace stands for a website or an app where the operator presents other people's or companies' inventory instead of having its own.
Different kinds of marketplaces
The marketplace can be divided into different types depending on the business model. Take a look to the list provided by NI Business Info:
-Independent e-marketplace is operated by a third party in specific industry for B2B model. Buyer and supplier are able to access specific industry's request for quotations and bids after paying the fee. PINPOOLS offers this solution for free for the buyers and suppliers are able to try out the functions for 30 days free of charge.
-Buyer & supplier-oriented e-marketplace are run by each party. Buyer-oriented is a marketplace, which is run by a group of buyers to seeking for efficient environment to purchase. It helps to increase administrative costs and get the best prices from the suppliers. For the supplier -oriented, the marketplace is a set up by suppliers looking efficient way to find buyers and boost the sales. It is a good way for the supplier to get more visibility and leads by attracting potential buyers.
-Vertical and horizontal marketplace have different kind of aspects as a e-marketplaces. Vertical provides access for all the segments of specific industry sector, like chemicals. This can increase the operating efficiency and decrease supply chain costs, inventories, and procurement-cycle time. For more information about supply chain management (SCM), take a look to the previous blog. On another hand, horizontal connects businesses across different industries or regions. Good examples of this kind of e-marketplace are Amazon and eBay.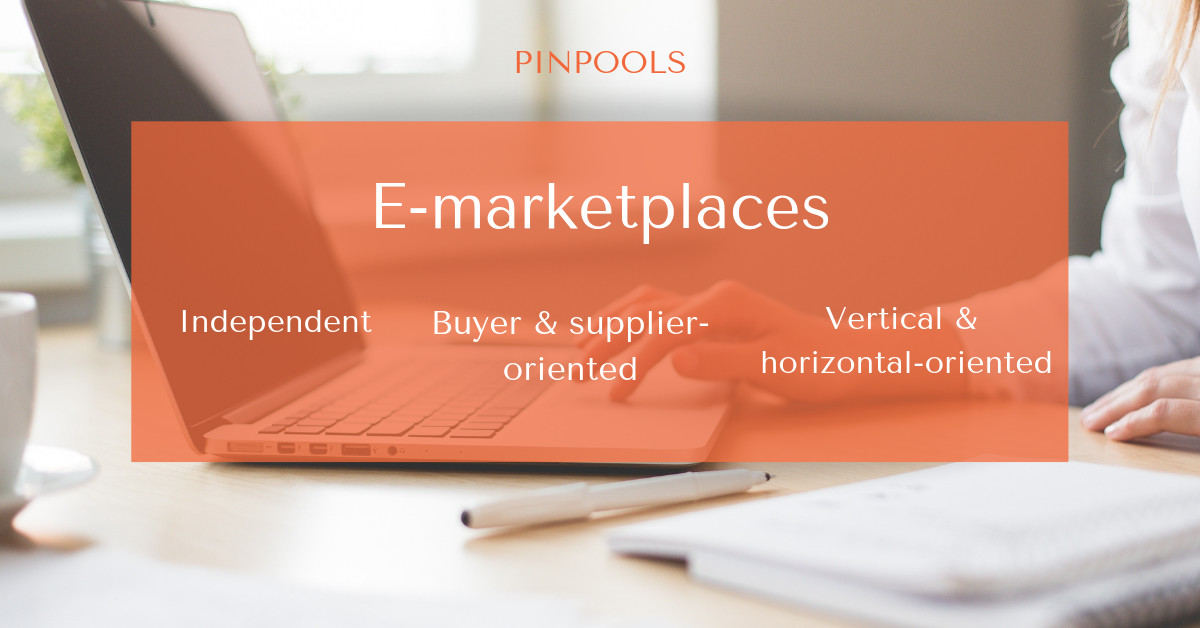 Access to easy and fast purchases
Most of us have visited eBay or Amazon's websites at some point of our lives, right? These two global leaders are the most well-known online marketplaces which can be used to buy and sell almost anything. But why are we shifting our buying habits more to online marketplaces? The main reason is having a quick and easy access to purchase any kind of goods. Today's way of life is ruled by digital devices and wanting to save time, so we often look for fast solutions to fill our needs. With an online chemical marketplace, which does not need inventory, the chemical world can be connected efficiently. Instead of contacting each potential supplier, the buyer can now contact all these companies at once.
Germany has a strong market position
Goodsall (2019) states electronic commerce, buying and selling on internet, being the German market one of the biggest in the world and making up for 25% of the whole volume in Europe. The country has a strong economic power and has a good reputation across the world. Amazon and eBay are leaders of doing online business, which have as well the German versions available ebay.de and amazon.de. To make most out of the business done in this European leading country, Goodsall has listed tips for selling in Germany:
-Germans have secure payment options. They often favor invoices, debit cards, PayPal, and bank transfers instead of credit cards. For example, according to Kulach (2018) up to 26% of preferred payment methods are covered by invoices.
-Because of such a great geographical location in the heart of Europe and efficient delivery solutions, the delivery speed is reliable.
Complexity of B2B marketplace
However, B2B marketplace differs from B2C because of different expectations and responsibilities. B2B sales are more complex and professional because instead of an individual purchaser making the decision, the companies have more people involved which makes the process slower. There is usually also more money involved which emphasizes the need of security and transparency. As PINPOOLS operates as an independent, there are no bigger chemical companies controlling the functions which creates a great opportunity for transparency of buyers and suppliers having access to the contact information.
Great opportunity in the future
More online marketplaces are founded continuously because of the huge advantages it offers for the operator to make more sales and the users having access to more rapid purchase process. The real-time information that is available in the online platforms helps the users to keep on track of different options available and these marketplaces often have much broader selection than most of the other brick and mortar stores.
The future of B2B marketplaces is growing among the users but as well the companies increasing their manpower with skilled labor. Amazon continuously posts jobs across the world ensuring to have the best skilled team improving the functions and usability. The salary rises with the increasing demand, according to Brohan (2019) e-commerce professionals receive already 10-15% higher pay packages than some years ago.
Tips and tricks to make most out of e-commerce marketplace
PINPOOLS advises all the supplier to make a sure of updating their company portfolio. This is going to help receiving the best sales opportunities because of the notifications from the buyers. When a buyer uploads a request for quote, the supplier matching to the product quantity will automatically be notified.
-It is useful to use as an additional channel to buy and sell products. It is saving time and marketing costs so why not give it a try!
-Create new customer relationships in transparent environment and have an opportunity to expand the sales even to a global level.
-Make sure to take a look to the terms and conditions of each provider in order to be aware of existing opportunities and limitations.