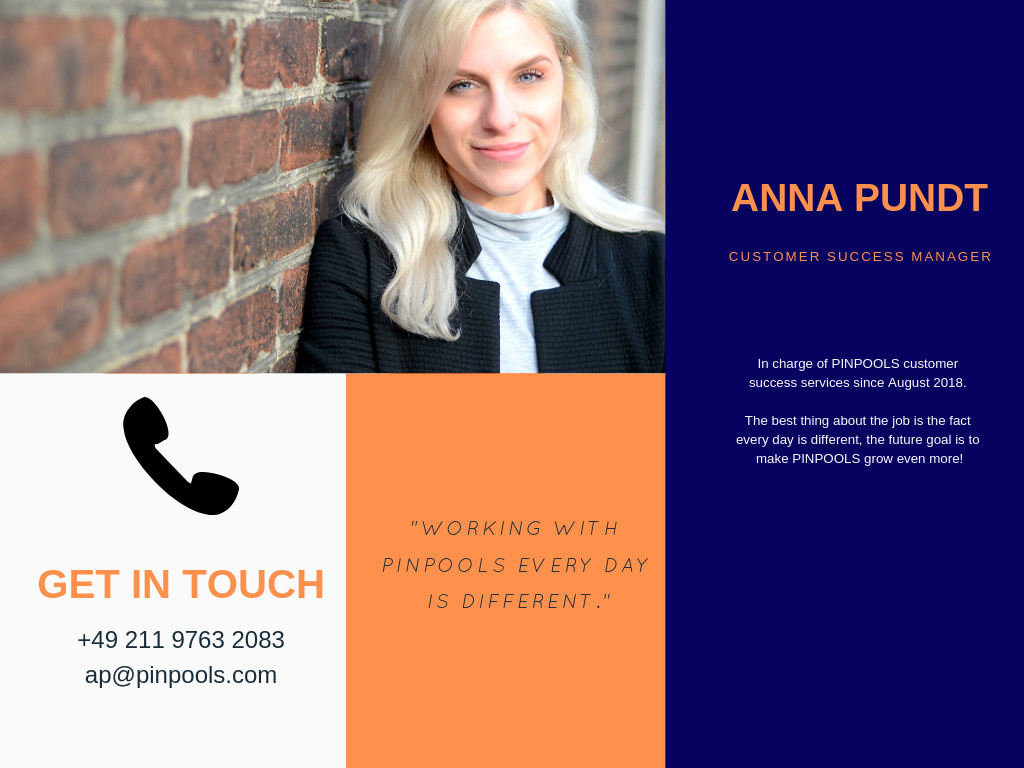 Anna Pundt, 27, grew up in Dinklage, Lower Saxony and moved to Düsseldorf in the summer 2017. A year later she joined to PINPOOLS and has been in charge of the Customer Success Services since August 2018. Her main tasks include sending emails and talking with the customer on the phone to help them with variety of tasks. For the new customers, she provides live demo presentations to introduce the marketplace and later on stays in contact with both, buyers and suppliers, to assist them with the different functionalities of the platform. She works with the suppliers on the product portfolio management and helps the buyers with requests of quotations (RFQs). Every day is different from the other, which makes working with PINPOOLS interesting. Anna enjoys the fact each day brings new challenges "There are no problems, just challenges" as she says.
Anna is passionate about traveling and photographing. Working as a tour guide in Europe gave her an opportunity to travel for work and get to see new places. Now she travels every now and then, mainly shorter weekend trips nearby, but is excited to explore more places as well. The favorite ones so far are Bali, Indonesia and New York, the US "I love to see different destinations, places with a beach and some sightseeing, but not too crowded by other tourists", she says. The next travels plans are going to be to Portugal and Iceland, how exciting! During the weekends Anna enjoys eating good food, going to concerts and photographing. She has done photoshoots for several occasions, such as weddings and family portraits. Sometimes Anna helps PINPOOLS marketing team with ongoing projects and gives her input to create even better content.
We are happy to have Anna in our team, keep up the good work!